Notes
Rich text notes are used to annotate topics. You can easily create new note, and format it to record more details:
To Add notes to a topic:
Select a topic.
Open the pop-out dialog with one of the following ways.

Press 'F4'.
Click notes icon on the toolbar.
Right-click the mouse, select 'Notes'.

Type your notes in the notes dialog.
Click "Ctrl(Command)+Enter" to save notes and close the dialog.
Note: "Ctrl+Enter" is not available on Linux at present.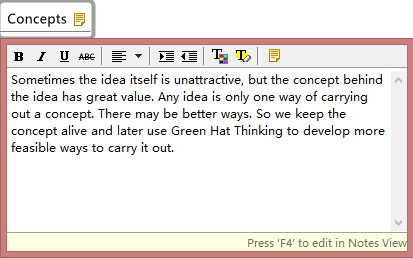 To Format existing notes:
Open the Pop-up notes dialog, and press "F4" again to open the Notes View.
Use the notes toolbar to edit these attributes:

Text font, size, type, alignment, color.
Background color.
Insert Images.
Insert Hyperlink

If you type the sentence like "http://www.xmind.net" in the notes, XMind will format it as a hyperlink automatically.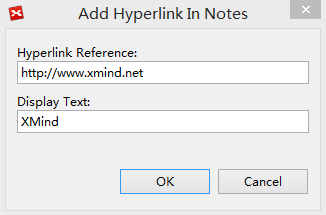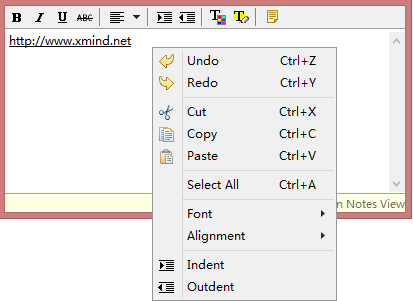 To Open the Hyperlink in the Notes
Open the Notes View
Press the Ctrl(Command on Mac) key, and click the link
Note: You can only insert local image into topic notes.