Outline
Outline is a tree-like view in XMind, containing all elements of the current map or workbook. Additionally you can modify some of the map's attributes here directly:
Topic: You can drag and drop a topic from outline view into the XMind editor. That topic will be copied into current map. You can directly double-click a topic in the outline to edit it.
Hyperlink: You can see the hyperlink URL if a topic use one.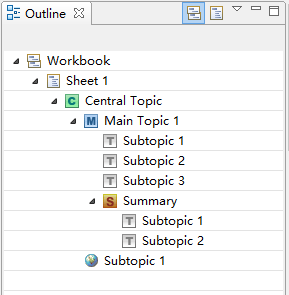 Outline View Toolbar
Outline has its own toolbar, which can decide to show the whole workbook or the current sheet only.
Show Workbook: Click to show all maps in this workbook.
Show Current Map: Click to show the current map only.